LOCAL EVENTS
Get daily updates on the best events in town!
Follow us on twitter, facebook or join our email list 'The Local Goods'.
Want to submit an event? Click here.
Events are FREE unless otherwise specified.
_______________________________________ 
LOCAL GOOD EVENTS
Green Drinks: Farm to Fork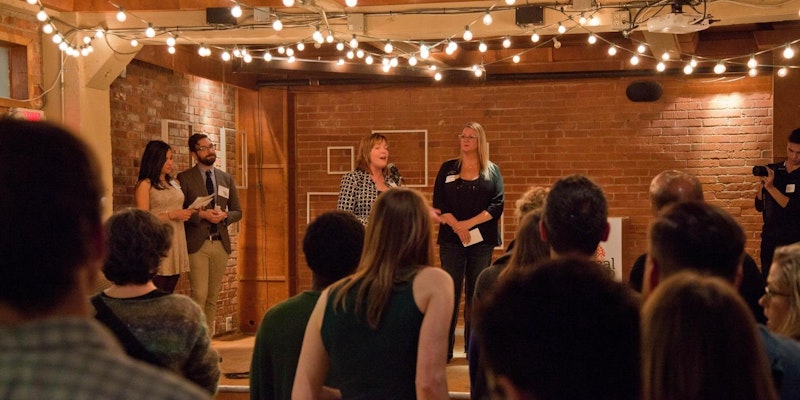 Wednesday, April 5, 7 pm – 10 pm
Yellowhead Brewery
Cost: $10 in advance/$15 at the door
Local food in Edmonton is growing and ripe with possibility. Designers, growers, producers, and consumers each play a strong role in transforming the food system to one that is healthy, just, and sustainable. Green Drinks: Farm to Fork will showcase local leaders and emerging players in #yegfood. On April 5, come meet and connect with your community and learn what strange and wonderful things are developing in our city.
More Info: https://www.eventbrite.ca/e/green-drinks-farm-to-fork-tickets-32387929168
Edmonton Resilience Festival
Saturday, April 22 (Earth Day!)
Waldorf Independent School
Cost: Varies
The Edmonton Resilience Festival includes an eclectic combination of workshops, conversations and events that contribute to personal, community, and global resilience. By coming together to celebrate and share skills and ideas through the festival, we will create a stronger, happier community which will increase our capacity to work together and to adapt to coming changes.
More Info: https://www.edmontonresiliencefestival.com/
River Valley Medicinal Plant Walk with Robert Rogers
Thursday, July 13, 5 pm – 8 pm
Tuesday, August 8, 5 pm – 8 pm
Tuesday, August 15, 5 pm – 8 pm
Mill Creek Ravine
Cost: $60
Sold out consistently each year, join Robert Rogers for an entertaining and educational plant and mushroom walk through Mill Creek Ravine one of these summer evenings. It will be happening rain or shine – so be prepared to bring a rain jacket, umbrella, and some galoshes! Also bring notepad, camera, insect repellent and good walking shoes.
More Info: https://www.facebook.com/events/1307038472708814/
COMMUNITY EVENTS
Western Canada Fashion Week
Thursday, March 23 – Saturday, April 1
Western Canada Fashion Week (WCFW) is the longest running fashion week in Alberta and the second-largest in Canada. Our primary mission is to create a community that unites everyone involved in the fashion and beauty industries.
More Info: http://westerncanadafashionweek.com
The Age of Consequences Film Screening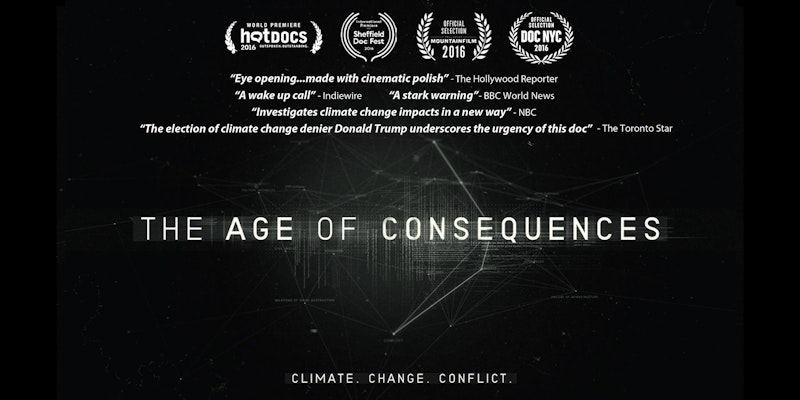 Wednesday, March 22, 6:30 pm – 8:30 pm
Telus Centre, University of Alberta
The Canadian International Council Edmonton Branch and the University of Alberta International invite you to join a film screening of "The Age of Consequences", a new look into the effects of climate change on issues of US national security and global political instability. "The Age of Consequences" seeks out generals, military veterans and other strategists to further illustrate the effects that climate shocks have had on very recent political and human systems – think the Syrian conflict, the Arab Spring and the European refugee crisis – and predicts how similar effects are bound to adversely affect our near to medium future ("climate change is an accelerant to instability").
More Info: https://www.eventbrite.ca/e/the-age-of-consequences-film-screening-discussion-tickets-32234236469

Thursday, March 23, 5 pm – 9 pm
TELUS World of Science Edmonton
Join us for this exciting mix of short presentations in the IMAX Theatre and plenty of traditional mixer time you've come to expect at Green Energy Futures Mixers!
Including:
an overview of The Blatchford project with Councillor Bev Esslinger and Mark Hall; Geo-exchange construction innovations with Colin Grindle (APE), Ken McCullough (Think Mechanical) and Caleb West (Seed Builders passive house project); and Bio-industries – The Art of Possibilities with Steve Young.
The Yards Spring Salon
Thursday, March 23, 5 pm – 10 pm
CKUA Radio (9804 Jasper Avenue)
Cost: $10
Join us for our Spring 2017 Issue Salon!  How can we sustain urban agriculture in the core? Can we source and produce our own food while living in Edmonton? Come join the conversation as our panel discusses balcony gardening, urban beekeeping and foraging in Edmonton's river valley. Refreshments provided, cash bar by Steamwhistle Brewery.
More Info: https://www.facebook.com/events/271185239953566/
Ticket to Ride
Thursday, March 23, 6 pm – 11 pm
Latitude 53
Cost: $40
A City of Edmonton Youth Council social mixer and fundraiser, Ticket to Ride needs your support to bring transit into the hands of at-risk-youth! Enjoy an evening of live music, socialization, conversation, and philanthropy just blocks from downtown, while also directly supporting Edmonton's youth community! 100% of ticket sales and donations contribute directly towards purchasing transportation tickets for use by Youth Empowerment and Support Services, enabling the youth they assist to secure transportation for work, family, social supports, or any other trips many take for granted daily.
Vermi-Compost Building Workshop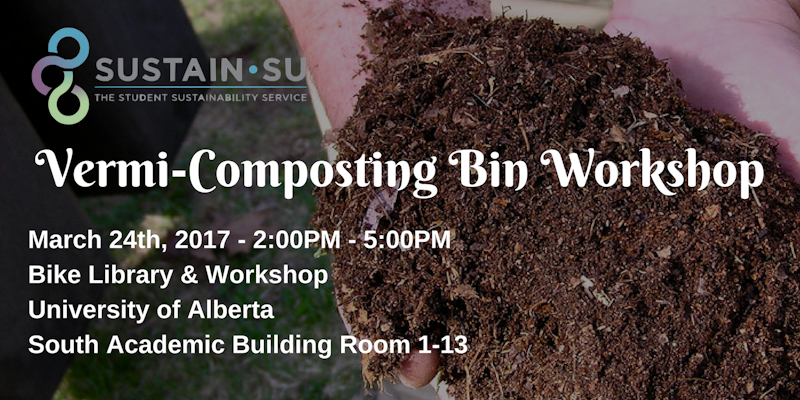 Friday, March 24, 2 pm – 5 pm
University of Alberta
Cost: $20
Come build your own vermi-compost bin for your home. We will provide all the tools, supplies, and knowledge for you to take yours home with you. The vermi-compost is a bin designed to house Red-Wriggler worms. This South American species of worm can eat their weight in food waste each week, and reproduce faster than any other worm. The vermi-compost is an amazing way to create high quality compost for your house plants.
More Info: https://www.eventbrite.ca/e/vermi-compost-builiding-workshop-tickets-32306056284
Make It Edmonton
Friday, March 24 – Sunday, March 26
Northlands Expo Centre
Cost: $3 – $5
Join us for more handmade awesomeness at Make It Edmonton! Over 175 of your favourite Makies (and some new ones too!) are bringing their goodies back to the Expo Centre for our fabulous spring show. Stock up on accessories, jewellery, clothing, art, home decor, food, baby/kid items and lots of other beautifully crafted, handmade goods. As always, there will be delicious food trucks and a beer garden so make sure you come hungry n' thirsty!
More Info: https://www.facebook.com/events/1193817280702945/
Sustain X: Creating a Sustainable YEG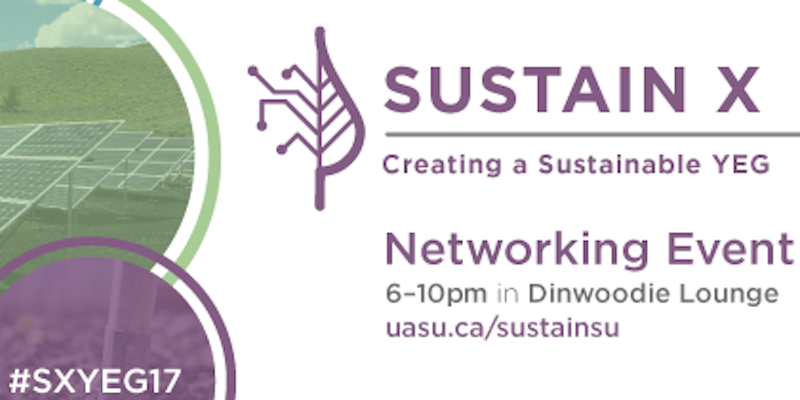 Friday, March 24, 6 pm – 10 pm
Dinwoodie Lounge, University of Alberta
Join Sustain X for a Pecha Kucha Night and facilitated networking event. Six speakers will present about how their social innovations are making Edmonton more sustainable. There will be workshops, door prizes, and plenty of opportunities to network among like-minded individuals. Admission is free, donations will be accepted at the door, and all are welcome to attend. Sandwiches and light snacks will be provided.
More Info: https://www.eventbrite.ca/e/sustain-x-creating-a-sustainable-yeg-tickets-32419988057 
Earth Hour Race
Saturday, March 25, 1 pm – 5 pm
MacEwan University
Cost: $15
On March 25, teams of two will race between NAIT, MacEwan University, and the University of Alberta to compete in the third-annual Earth Hour Race. Grab a friend and test your mental and physical stamina as you complete challenges that highlight themes related to environmental conservation, social justice, and economic sustainability. Will you reach the finish line in time to win?
More Info: https://www.facebook.com/events/1625008254473514/
Self_ Refinery
Saturday, March 25, 9 pm – Late
Art Gallery of Alberta
Cost: $35 – $45
Blending themes from current exhibitions of portraiture and photography with social media and pop culture, this late-night art party is all about you. Make the night one to share.
The Joint Affair
Sunday, March 26, 6:30 pm
Fantasyland Hotel
Cost: $218
The Arthritis Society Alberta and Northwest Territories Division is excited to announce the launch of The Joint Affair, a one-of-a-kind event that will celebrate tradition and advancement within the rheumatology community. The Joint Affair, being held on March 26, 2017 will recognize and honour Dr. Anthony S. Russell, who has been a leader in his professional field of Rheumatology for almost 50 years. In partnership with Dr. Russell's congregation at the Beth Shalom Synagogue, this event is about coming together to honour the rich history of Dr. Russell's career, while profiling the advancements of arthritis research and celebrating the power of community.
More Info: http://thejointaffair.ca/
Bike Trip: Guided Tour to Cafe Bicyclette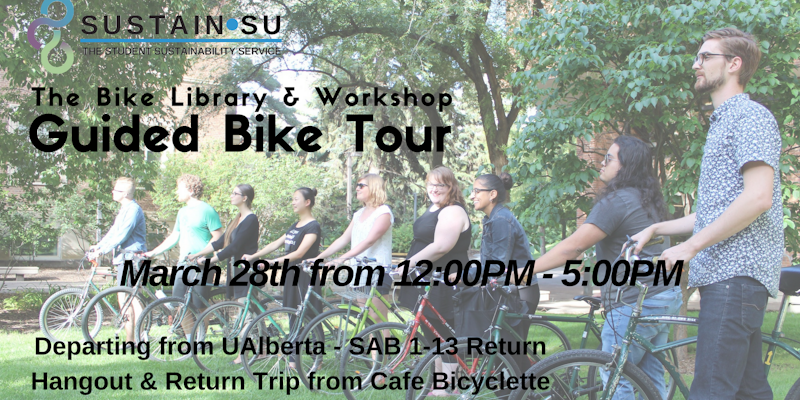 Tuesday, March 28, Noon – 5 pm
University of Alberta
This guided tour to the Cafe Bicylette will help cyclists of all levels feel more comfortable commuting on the streets of Edmonton. For those without bicycles rentals are available. The tour will start at the Bike Library and Workshop, 1-13 South Academic Building, and end when all participants arrive at the cafe. The tour guide will be returning to the University of Alberta North Campus afterwards.
More Info: https://www.eventbrite.ca/e/guided-bike-tour-to-cafe-bicyclette-tickets-32473247357
Second Season Street Party
Saturday, April 1, 11 am – 8 pm
Rice Howard Way
Winter has come and gone, let's party! The Foundry Real Estate Co. has a celebration planned for saying 'farewell!' to winter on Rice Howard Way, supported by EEDC. The free event has extended patios at Sherlock Holmes, Craft Beer Market, and McLeod Tavern – not to mention the famous tacos from Tres Carnales. Tons of fun for the whole family including s'mores, wagon rides, a colouring corner, and a bouncy castle. Sit back, relax, and take in the live music curated by the Chrvch of John. Park for free, courtesy of Westcorp, at their parkade at 10135 100A Street. Don't forget to bring along your furry four-legged friends— dogs are welcome too!
More Info: http://exploreedmonton.com/festivals-and-events/second-season-street-party
Mask You Live In: Screening & Panel Discussion
Saturday, April 1, 4 pm – 7 pm
Garneau Theatre
In partnership with the City of Edmonton's Men's Support Services, Men Edmonton (ME) invites you to the exclusive screening of The Mask You Live In. The documentary screening will be followed by a panel discussion and light refreshments.
More Info: https://www.eventbrite.ca/e/mask-you-live-in-screening-panel-discussion-tickets-31904607540
Gravity: A Celebration of Arts and Politics
Monday, April 3, 6:30 pm – 9 pm
Garneau Theatre
Cost: $15
Theatre Yes joins forces with Greenpeace Edmonton and the Heath Sciences Association of Alberta for a wild romp through all things political. GRAVITY is a political arts cabaret that brings together some of Edmonton's finest theatre, dance, spoken word and visual artists in a creative exploration of the gravity of the situation we currently find ourselves in. From the Muslim ban, women's rights, disability access, consumption, and all that is Trump: GRAVITY is going to try to explore it all.
More Info: https://www.facebook.com/events/1225272187591769/
Cycling the City: The Mainstreaming of Urban Biking
Tuesday, April 4, 7 pm – 8:15 pm
MacEwan University
Cycling is rapidly growing in popularity as a means of getting around North American cities. More and more places are introducing cycling-specific infrastructure to provide safer dedicated routes for cyclists, pedestrians, and motorists. This summer, Edmonton launches its downtown grid of separated bike lanes. Calgary author, journalist, and blogger Tom Babin looks at recent trends and infrastructure developments in urban cycling in Calgary, Edmonton, and around the world.
More Info: https://www.facebook.com/events/1100653360080214/
Honouring Relations: A Short-Film Retrospective
Wednesday, April 5, 7 pm
Metro Cinema
Cost: $6 – $12
Reconciliation in Focus presents an evening of short films by Indigenous filmmakers from across Canada. Films will be a combination of experimental genres, animation, and documentaries. A panel following the screening will reflect on the politics of storytelling and the relationship between filmmaking and the labour of revitalizing relationships to family, place, and language.
More Info: http://www.metrocinema.org/film_view/6225/
Nerd Nite #34
Wednesday, April 12, 8 pm – 11 pm
The Needle Vinyl Tavern
Cost: $10 – $20
They say April showers bring May flowers. But out here on the prairies, we don't really know what they say, except to expect the unexpected. That's what this Nerd Nite is about. You'll learn about literature, taxes and fitness. And you'll do it in the company of a terrific community, and where beer is served. Be there AND be square!
More Info: https://edmonton.nerdnite.com/