LOCAL EVENTS
Get daily updates on the best events in town!
Follow us on twitter, facebook or join our email list 'The Local Goods'.
Want to submit an event? Click here.
Events are FREE unless otherwise specified.
_______________________________________ 
LOCAL GOOD EVENTS
Wednesday, November 2, 7 pm – 10 pm

Yellowhead Brewery
Cost: $10 in advance; $15 at the door
Mingle with Edmonton's Greenest! We will be celebrating the amazing work Edmonton's business community has in making our city a more sustainable and vibrant place to live and work. These are the businesses that set an example for others, either through ethical practices, being good community members or just helping make this city of ours a better place. Come meet and connect with some of Edmonton's leading figures & thinkers in local business and learn what strange and wonderful things can come from local business done well.
More Info: http://greendrinks_yegsters.eventbrite.ca/
COMMUNITY EVENTS
Lit Fest
Thursday, October 13 – Sunday, October 23
Litfest is a festival, a movable feast. We don't just sit around and read books (although we do that too). At LitFest, nonfiction content comes to life. Avid readers with nonfiction content and creators through a series of events chic gatherings and gourmet experiences.
More Info: https://litfestalberta.org/
YEG Coffee Week
Friday, October 14 – Sunday, October 22
Yeg Coffee works to connect and build a vibrant community, that works to motivate, educate and support both coffee professionals and enthusiasts as well as our local community.
More Info: http://www.yegcoffee.com/coffee-week-1
A Just Transition for Alberta
Monday, October 17, 8 am – 5 pm
Chateau Lacombe Hotel
As Alberta implements their Climate Leadership Plan, the issue of a just transition for workers and communities becomes increasingly important. That is why we are bringing together workers, environmentalists, government representatives, and other decision-makers for this FREE day-long event.
More Info:  https://www.facebook.com/events/830438367091424/
DEDfest 2016
Tuesday, October 18 – Sunday, October 23
Metro Cinema
Cost: Varies
Now entering our ninth consecutive year, DEDfest promises to bring Edmonton film goers the best in new independent action, horror, sci-fi and cult cinema from around the world!
More Info: www.dedfest.com
Restaurants for Change
Wednesday, October 19, 7 am – 11 pm
Restaurants for Change is an annual fundraising event that brings together some of Canada's best restaurants to create change in our food system.  On October 19, more than 65 restaurants in 15 Canadian cities will join together to donate proceeds from dinner service to support organizations across Canada that bring people together to grow, cook, share, and advocate for healthy food for all.
More Info: http://www.sustainablefoodedmonton.org/events/2016/10/19/restaurants-for-change-2016
Uneasy Graves – Digging Up the Truth Behind Vampires
Wednesday, October 19, 7 pm – 9 pm
Saskatchewan Room, Faculty Club, University of Alberta
Cost: $15
Take a journey through folklore and forensics as we dig up the truth behind the legend of vampires. For centuries, the peoples of Eastern Europe feared vampires and took special precautions – including the classic stake through the heart – to ensure the dead wouldn't rise to walk the night. Today, archaeologists are learning about these ancient beliefs by studying 'vampire' graves. Come early to discover your blood type and stay late to indulge in the Halloween-themed dessert buffet by Whimsical Cake Studio.
More Info: https://www.ualberta.ca/alumni/events/alumnievents/7fkesmpcgvmmsmnhn9co8qfr44
Take Back the Night Rally + March to Stop Violence Against Women
Friday, October 21, 6:30 – 8:30 pm
Churchill Square
Everyone is welcome to rally and hear speakers representing different sectors of women. Bring your own candles/lights and signs – Deepen our understanding of the problem of violence against women.
More Info: https://www.facebook.com/events/1593909367577980/
Winter Cycling Workshop
Friday, October 21, 6:30 pm – 9 pm
Edmonton Bicycle Commuters Society
Cost: $10 for members, $15 for non-members
Whether you are new to cycling in winter or an experienced snow rider, come & join in on this workshop to learn how to keep riding your bike through the winter in comfort, safety, style and fun.  With a panel of experienced winter riders with wildly divergent styles, you're sure to get some advice that works with your lifestyle.
More Info: http://yeg.bike/events/44/
Pop-Up Cat Café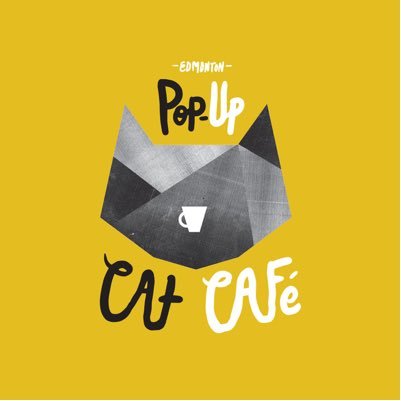 Saturday, October 22 – Sunday, October 23
CAVA
Cost: $15
A Pop-Up Cat Cafe featuring adoptable felines from SAFE Team Rescue and ZOE's Animal Rescue Society. Coffee service will be provided by Transcend Coffee.
More Info: https://www.facebook.com/events/1596346013992683/
Edmonton Repairathon
Saturday, October 22, 1 pm – 3 pm
Bissell Centre
Don't throw that torn shirt in the garbage! Bring it to get mended by our fantastic volunteers! Please keep to a 2-item limit so that we can help as many people as possible.
More Info: https://www.facebook.com/events/1824512167780389/
Tool Drop Off
Saturday, October 22, 1 pm – 4 pm
The Bellevue Community League
If you have tools you don't use, we will lend them! Hand tools, battery operated or electric tools are greatly appreciated (no gas power tools please). If you have tools that you'd like to donate but can't make it to drop them off please contact us at edmontontoollibrary@gmail.com
More Info: https://www.facebook.com/events/1246839778689249/
SkirtOberfest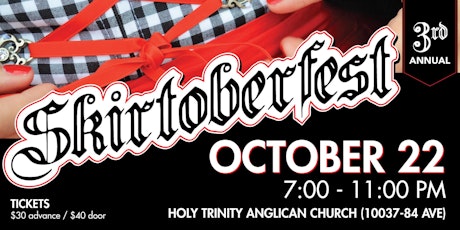 Saturday, October 22, 7 pm – 11 pm
Holy Trinity Anglican Church
Cost: $30
Join SkirtsAfire for our third annual SkirtOberfest, where you'll be treated to a selection of savoury and sweet pretzels and dips from Zwick's Pretzels, as well as beer tastings from local micro-brewery, Situation Brewing – including their newly released Oktoberfest beer. This year's SkirtOberfest will also feature music and entertainment from The Leah Harmon Trio, Viajante World Beat Drum ensemble, and a peak at what's to come at SkirtsAfire's upcoming festival, March 8 – 12, 2017. Of course, don't miss our silent auction where you can bid on nights out on the town, art, and more!
More Info: https://www.eventbrite.com/e/skirtoberfest-2016-craft-beer-gourmet-pretzels-tickets-27244779870
Fruit Loop: Spooktacular
Saturday, October 22, 8 pm – Late
Needle Vinyl Tavern
Cost: $10
Fruit Loop is back for our FINAL pop-up event of 2016 . . . Fruit Loop: Spooktacular! Please join us and our fab community partner Curling With Pride. Dressing up is encouraged!! You might as well take your Halloween costume out for a test drive and maybe even win a prize!
More Info: https://www.facebook.com/events/640026652823909/
Sustainability Awareness Week
Monday, October 24 – Friday, October 28
University of Alberta
Join us for Sustainability Awareness Week (SAW) at the University of Alberta for your chance to explore dozens of social, environmental and economic challenges and solutions. With dozens of free workshops, tours and events, discover issues that matter to you, get involved, and make a positive difference.
More Info: sustainability.ualberta.ca/saw
Workshop: Crochet Rugs and Bags Using Recycled Materials
Tuesday, October 25, 7:30 pm
Jasper Avenue
Cost: Free if you bring the materials, or a $10 materials fee
We will be reusing scrap fabric and old grocery bags to make fabric rugs and durable plastic bags. This class is through the river valley free school! 
More Info: https://www.eventbrite.ca/e/crocheted-rugs-and-bags-using-recycled-material-tickets-28318950744
Diversifying Alberta's Economy
Thursday, October 27, 12:30 pm – 4:45 pm
Art Gallery of Alberta
Alberta is a global powerhouse in energy and agriculture. Growing and attracting companies to access natural resources and build value has been at the heart of Alberta's economy for decades. Alberta must maintain this leadership position while also fueling growth and supporting small and medium enterprises (SMEs) in high tech, green energy, advanced manufacturing, and industries that have yet to develop. This symposium will focus on Alberta's capital market as a key to supporting SMEs' access to capital, growth, and entrance to new markets.
More Info: https://www.facebook.com/events/1124145674346685/
MADE City Building Lecture Series
Thursday, October 27, 7 pm – 8:30 pm
Art Gallery of Alberta
Cost: $15
On October 27, MADE will be hosting a lecture by Marc Boutin as part of its City Building Lecture Series. In partnership with the Art Gallery of Alberta, the City of Edmonton, and Athabasca University, MADE is presenting a lecture series featuring the architects behind the buildings which are transforming the architectural discussion in Edmonton.e.
More Info: http://joinmade.org/made-events/boutin
Rocky Horror Steampunk Ball
Friday, October 28, 9 pm – Late
Starlite Room
Cost: $40
We warped time so you can do the Time Warp again. Come join us for an exciting night of dancing, drinks, and drama at this year's Steampunk Ball. The theme is "Rocky Horror Picture Show," so gather up your fishnets and gold shorts, don your best party attire, and brush up on your Transylvanian Twist as we party at the Frankenstein Place.
More Info: https://www.facebook.com/events/1678483835748849/
Edmonton Witches Market
Saturday, October 29, 10 am – 4 pm
King Edward Park Community League
Join 30 + vendors to browse and shop with. Readers, herbs and oils, tarot, jewelry, candles, sweets and so much more!
More Info: https://www.facebook.com/events/1582622375372771/
Refinery: Danse Macabre
Saturday, October 29, 9 pm – Late
Art Gallery of Alberta
Cost: $35 – $45
Celebrate the darker side of Refinery this Halloween with Danse Macabre – the Dance of the Dead. Taking inspiration from current exhibitions, this late-night art party conjures ideas of morality and mortality. Revel in the pleasures of life while being seduced by darkness at your AGA's elegant Halloween party.
More Info: http://www.youraga.ca/refinery
Next Gen City Jam
Thursday, November 10
Starlite Room
Cost: To get your FREE ticket, you need to volunteer with a local organization for at least 10 hours between August 1 and October 31, 2016. 
Join us for the inaugural NextGen City Jam, a high-energy celebration of volunteerism with live music. Maybe you're a volunteer connoisseur with lots of hours under your belt. Maybe you've lent a hand once or twice, but are looking for a group of people with whom you can do more. Maybe you've never volunteered before. We want to celebrate with you all! Let us say "Thanks!" for being a community-builder who will help us create a city we want to be a part of.
More Info: http://edmontonnextgen.ca/cityjam
St. Albert Indoor Christmas Market
Every Saturday, November 26 – December 17, 10 am – 3 pm
With over 70 vendors per weekend, there's a HUGE variety of products to choose from. For your Christmas dinners and parties, you can find fresh produce, bread, baking, and preserves. For Christmas gifts you can find crafts, clothing, home décor, artwork, plants and a great selection of unique items to find for your loved ones. Along with great shopping, the Indoor Market has many activities: find our Christmas trio hidden in St. Albert Place for great prizes each weekend, decorate Christmas cookies, make Christmas crafts, get sparkle tattoos or face paint, free hot chocolate, Christmas music and much more!
More Info: http://www.stalbertfarmersmarket.com/