LOCAL EVENTS
Get daily updates on the best events in town!
Follow us on twitter, facebook or join our email list 'The Local Goods'.
Want to submit an event? Click here.
Events are FREE unless otherwise specified.
_______________________________________ 
LOCAL GOOD EVENTS
Save the Date! Next Green Drinks is on February 1st!
COMMUNITY EVENTS
Mayors' Forum: Building Strong Communities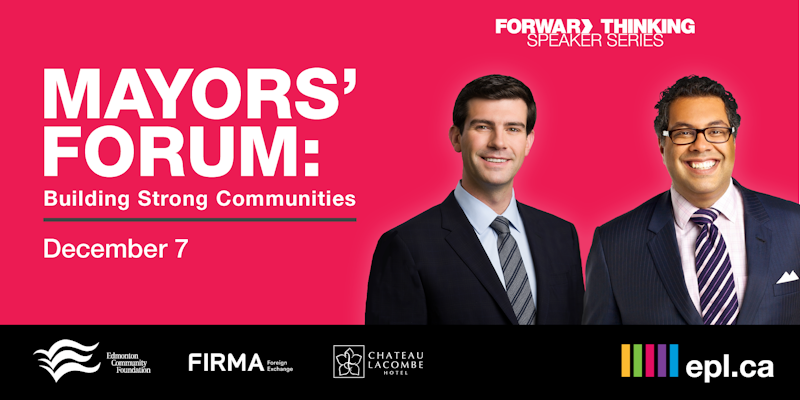 Wednesday, December 7, 7 pm – 8:15 pm
Chateau Lacombe Hotel
Cost: $10 – $75
Alberta was built on our people's industrious nature, innovative mindset and resilient resolve. Through the oil booms and the economic downturns there's an innate fighting spirit that pushes Albertans to find solutions, work harder and make our province the most desirable place to live. We're fortunate to call this great northern city home, but there's always room to make Edmonton even better. This forum with Edmonton Mayor Don Iveson and Calgary Mayor Naheed Nenshi, and moderated by Paula Simons, will inspire, inform and motivate you to find meaningful ways to contribute to our communities, cities and province.
More Info: https://www.eventbrite.ca/e/mayors-forum-building-strong-communities-with-mayor-iveson-and-mayor-nenshi-tickets-28949717384
The Yards Winter Salon
Thursday, December 8, 6 pm – 9:30 pm
CKUA Radio Network
Cost: $10
Forecasters predict a crises for Edmonton's office vacancies, so how can they be salvaged and converted into housing or amenities that serve core residents? Join the discussion with the City's long-time downtown expert Duncan Fraser, Alyssa Lefaivre of DIRTT Environmental Solutions and EEDC's Jimmy Shewchuk. PLUS: Meet the winners of the Best in the Core Awards. Then stick around for music, drinks and food as the conversation continues at this lively salon.
More Info: https://www.picatic.com/winteryards
interVivos Presents: Our 10th Birthday Party!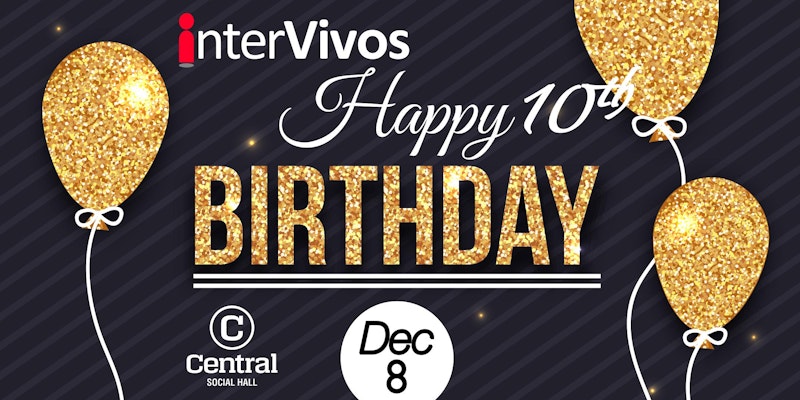 Thursday, December 8, 7 pm – 10 pm
Central Social Hall
Cost: $20
Miniatures Show
Opening Reception: Friday, December 9, 7 pm
Gallery: Until Friday, December 23
CAVA (Centre des arts visuels de l'Alberta)
Les Miniatures reviennent au CAVA encore cette année! Venez découvrir des artistes locaux tout en magasinant pour vos cadeaux de noël. Plus de 25 artistes participent. Les oeuvres seront exposées au Centre jusqu'au 23 décembre 2016.
More Info: http://www.galeriecava.com/
Canadian Mountain Festival/International Mountain Day
Friday, December 9 – Thursday, December 15
University of Alberta
The Canadian Mountain Network seeks to provide mountain enthusiasts and stakeholders the opportunity to connect, collaborate, and share learnings about Canadian mountains. The Mountain Festival coincides with the United Nations' International Mountain Day observed every year on December 11 to celebrate the world's mountain landscapes and the communities and cultures that inhabit them. IMD is an opportunity for the international community to collectively highlight the importance of sustaining mountain ecosystems and communities for future generations. Events like the Mountain Symposium and Northern Indigenous Narratives presentation set the stage for interdisciplinary collaborative thinking and networking. Don't miss the Mountain Mixer at the conclusion of our week of fantastic Mountain Festival events; it's a chance to relax and meet other mountain enthusiasts!
More Info: visit www.internationalmountainday.ca for a full list of 2016 Mountain Festival events with links to free tickets.
Royal Bison Fair

Friday, December 9 – Sunday, December 11
Old Strathcona Performing Arts Centre
Cost: $3
Two rooms of local art, prints, books, plants, apparel, photos, jewelry, textiles, toys, woodworking, an entire YEG literature reading room and all your pals!
More Info: http://www.royalbison.ca/
Yoga For YESS
Saturday, December 10 – Sunday, December 11
The Mosaic Centre
This 2 day event consists of donation based yoga classes and 1 kids yoga class. In addition to yoga classes, there will also be a silent auction with many awesome health-conscious prizes. You can also look forward to healthy snacks, acro yoga, a yogi lounge, henna tattoos, tools to de-stress, and much more to be announced. All of the proceeds will be donated to YESS.
More Info: https://www.facebook.com/events/980821348685048/
Saturday Morning All You Can Eat Cereal Cartoon Party
Saturday, December 10, 10 am – 12:30 pm
Metro Cinema
Cost: $12 – $14
It's the Annual Christmas edition of the Saturday Morning All-You-Can-Eat Cereal Cartoon Party, curated by film programmer, writer and pop culture connoisseur Kier-La Janisse! It's that special time when kids and kids-at-heart get to relive the exciting Saturday Morning ritual of non-stop retro cartoons, and binge on the multi-colored sugary cereals that used to be a part of every "balanced" breakfast! The cartoon lineup is always a mystery, but you'll see both Holiday faves and obscurities spanning the 40s through the 80s, all punctuated with vintage commercials and PSAs!
More Info: http://www.metrocinema.org/film_view/6062/
Community Geeky Market
Saturday, December 10, 10 am – 6 pm
The Gamers' Lodge
Join us for our first ever Geeky Market! We will have tons of local vendors selling handcrafted products, used board games, geeky collectables, and more!
More Info: https://www.facebook.com/events/379429489063041/
Reset Wellness Holiday Open House
Saturday, December 10, 5 pm – 8 pm
Reset Wellness (10324 – 82 ave)
RESET WELLNESS is a year old! Time for a party – we invite you to share in the growth and love we've had and created over the last year.  We're excited to yet again have an opportunity to giveback and support YESS via our Gifty Auction with participating Whyte Ave and local businesses, and our Youth Health Fund, supporting youth in need of healthcare like Acupuncture and Float Therapy.
You've heard whispers about Reset on Whyte, now is a good time to discover this secret gem. Hidden in the heritage Dominion Building – right in the heart of whyte ave – our beautiful clinic and team of professionals welcome you to celebrate Health and Wellness, Community, Growth, Accomplishments, the Holidays and YOU ♥
More Info: https://www.facebook.com/events/679404588902877/
Late Night Cabaret: Snowed In
Saturday, December 10, 7:30 pm – Late
Fringe Theatre Adventures
Cost: $18
For one night only, the Edmonton International Fringe Theatre Festival comes indoors! Join us for a Fringe Festival tradition, including a musically charged variety show featuring local Edmonton artists and special guests. Warm up in the North Pole Beer Tent in the Lobby. Get out of the cold and experience a taste of the Fringe! Come for the show, stay for the after party – we'll keep the good times rolling well into the late night.
More Info: https://www.facebook.com/events/662916260535006/
Indigenous Market Place
Sunday, December 11, 10 am – 5 pm
Bent Arrow Traditional Healing Society
Come together in support of Authentically Local Indigenous Crafts people, Entrepreneurs, and artists/facilitators. Iskwewak Collective proudly presents our first Indigenous Market Place. A place to speak with those who are passionate about keeping our traditional arts and knowledge alive. Through their creations and community involvement. Amazing handcrafted goods, indigenous small business, bakers and more will be on site to provide your family with authentically indigenous arts, crafts, foods, and innovative products. Admission is free, but we will graciously accept gifts of new unused socks underwear, gently used outer wear (mitts, gloves hats, scarves,boots) to be distributed to our inner city sisters and brothers in need.
More info: https://www.facebook.com/events/823314624477365/
Get Into Winter!
Sunday, December 11, 1 pm – 4 pm
Rundle Park
Imperial & River Valley Programs presents: Get Into Winter at Rundle Park. Enjoy free indoor & outdoor events such as cross country skiing, kicksledding, GPS, nature crafts & more!
More Info: https://www.facebook.com/events/369843050073945/
From The Wild Table
Sunday, December 11, 5:30 pm – 10 pm
Three Boars
Cost: $75
Slow Food is an organization that believes in Good, Clean and Fair food. In Alberta this means that many people hunt or have a history of hunting in their families. This project is important to Slow Food Edmonton as it allows a rare opportunity for our chefs to work with wild meats in the kitchen, and for diners to taste foods that live in the same ecosystem we do. We hope that with taste and conviviality comes appreciation and respect for ingredients and habitats that are important for us to value and protect.
More Info: https://www.facebook.com/events/819550094853951/ 
Understanding Reconciliation: Your Role In Reconciliation

Thursday, December 15, 6 pm – 8 pm
South Pointe Community Centre
Cost: $25
Through the work of the Truth and Reconciliation Commission, many Canadians are now more aware of the lasting impacts of residential schools, but how do we make reconciliation a reality? The TRC 94 Calls To Action create a framework for moving our society towards better relationships, but it really comes down to how we speak to and about each other. This conversation will be one of those safe spaces to share with and learn from one another while asking the tough questions and challenging each of us to think differently about our personal role in reconciliation.
More Info: https://www.facebook.com/events/562111710645253/
Solstice Concert: Deep Winter Song
Sunday, December 18, 7:30 pm
Centre for Spiritual Living
Cost: $15 – $30
The 10th annual presentation of Deep Winter Song: A Mystical Evening of Music and Story. We welcome you to an "acoustic" music & story presentation exploring and celebrating the Mystery of this Solstice/Christmas season, and the wondrous dark season of winter. The night will include traditional and modern songs of winter, along with storytelling, poetry, angelic voices, inspiring words, enchanting vibes, a time of Deep Sacred Sound, moving projections, laser starlights, and a Solstice fire ritual.
More Info: https://www.eventbrite.ca/e/deep-winter-song-2016-tickets-29465738818
My Favorite Things: A New Years Eve Sing Along & Fireworks
Saturday, December 31, 7 p:30m
South Pointe Community Centre
Cost: $10 – $25
Raindrops on roses and whiskers on kittens, a New Year's Eve where you don't need your mittens! Bring the whole family out for a sing-along evening filled with your favourite music from generations of musical theatre hits – from The Wizard of Oz to The Lion King and The Sound of Music to Frozen! Dress up in your favourite character costume or come decked out to ring in 2017. Sung by an amazing cast of NUOVA's Emerging Artists, you'll be lead through the songs you, your children and your grandchildren know and love. 
More Info: http://www.operanuova.ca/my-favorite-things