Get daily updates on the best events in town!
Follow us on twitter, facebook or join our email list 'The Local Goods'.
Want to submit an event? Click here.
Events are FREE unless otherwise specified.
_______________________________________ 
LOCAL GOOD EVENTS
10 Years of The Local Good: a Fundraiser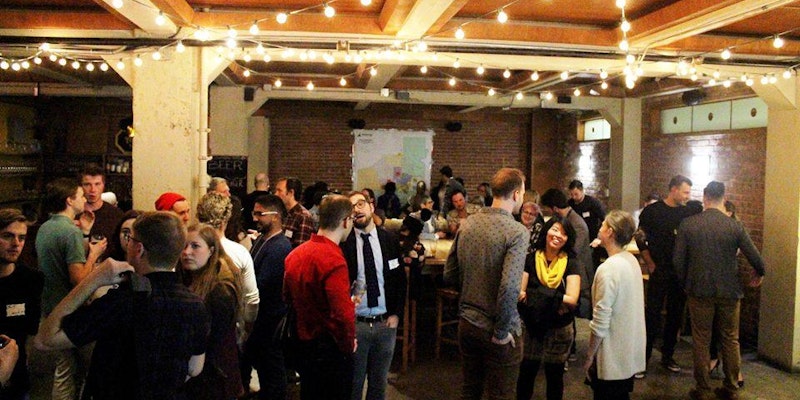 Wednesday, December 6, 5:00 pm 
It's been 10 years since 50 enthusiastic Edmontonians came out for the first meeting of E-SAGE (Edmonton Socially-Conscious Alternative Green Entrepreneurs), and would go on to become The Local Good. Now, we need your help. In order for our volunteer organization to be able to continue offering resources and events to like-minded, locally-focused Edmontonians, we need financial support. Please join us for an evening that celebrates ten years of all things local with live music, entertainment and more. The event is free, but we do ask that you RSVP and consider making a donation at the event to our organization. Thank you in advance for your support of The Local Good!
More Info: https://www.eventbrite.ca/e/the-local-good-fundraiser-celebrating-10-years-tickets-39242824344
COMMUNITY EVENTS
Superhero Series: Kyle Kasawski from Solar People
Tuesday, November 28, 10 am – 1 pm
Habitat Studio (11130 105 Ave)
Cost: $10-$15
The Canada Green Building Council is a not-for-profit, national organization that has been working since 2002 to advance green building and sustainable community development practices in Canada. Solar People is a team of experienced solar designers and qualified installers that will work with what you already love about your property and make it better: more efficient, more attractive, and more valuable. It's easier than ever to talk about the financial benefits of switching to solar.
More Info: https://www.facebook.com/events/570262623323984/
We Stand for Caribou
Tuesday, November 28, 10:30 am – 11:30 am
Alberta Legislature
Join us as we stand together on the steps of the Legislature in Edmonton and speak up for the need to protect caribou habitat. We will be hand delivering hundreds of signed postcards to Dr. David Swann, (MLA Calgary Mountain View Constituency) who will deliver them to the Premier's office. Most of the postcards have a quarter attached to them as a gesture to say we want caribou on our landscape, not just on our quarters. We need as many folks as possible to join us to show that there is strong support to save our caribou.You are welcome to bring a sign or placard with your feelings about protecting Alberta's caribou.
More Info: https://www.facebook.com/events/130150761005306/
AGA Holiday Shopping Party
Wednesday, November 29, 5 pm – 8 pm
Art Gallery of Alberta
Cross off those must-have items on everyone's wish list this holiday season with Shop AGA. Come in and enjoy some free hot chocolate. Gift wrapping will also be available by donation. Choose from over 1,300 artworks in all media and sizes and from artists from Alberta, Canada and beyond! Bring on the holiday cheer at Shop AGA.
More Info: https://www.facebook.com/events/1602565219808803/
Forever Resilient: A Conversation with  Jackie Foord and Michael Phair
Thuesday, November 30, 7 pm – 8:30 pm
Whitemud Crossing Edmonton Public Library
Join Jackie Foord and Michael Phair in dynamic conversation as they share pivotal stories, memories, and lived experiences as active and engaged members of Edmonton's LGBTQ community. Moderated by Dr. Kristopher Wells, Jackie and Michael will reflect upon Edmonton's past and help chart our future with thought-provoking reflections on diversity, resilience, and identifying as a gay senior in our city.
More Info: https://epl.bibliocommons.com/events/5a0382cd2698fa350050db3e
Butterdome Craft Sale
Thursday, November 30 – Sunday, December 3
University of Alberta Butterdome
Cost: $7
The Butterdome Craft Sale is an unforgettable Canadian Handmade community gathering. Now in its 27th year, the Butterdome Craft Sale is a four-day event featuring over 275 of Canada's most talented artists, artisans, and designers who will amaze shoppers with their works and interact with them face-to-face, making this a can't-miss experience.
More Info: http://butterdome.ca/fall/
Luminaria
Friday, December 1 – Sunday, December 3
University of Alberta Botanic Garden
Cost: $6.25 – $13.50
Fire light. Star light. Snow light. Thousands of candles, millions of stars, and you. This popular event ignites the festive season with thousands of candles along the paths of the Kurimoto Japanese Garden in a breathtaking display – a quiet oasis of peace and light. Visitors can count on their favorite elements: a stroll through the candle-lit pathways, hot apple cider beside the bonfires, ice sculptures, delightful "snow sprites" and the seasonal sounds of strolling a capella singers. 
More Info: http://luminaria.ualberta.ca/
Royal Bison Craft and Art Fair
Friday, December 1 – Sunday, December 3
Old Strathcona Performing Arts Centre 
Cost: $3
Browse the beautiful boutique-like displays from local, independent vendors selling unique handmade clothing, jewellery, accessories, artwork, toys, and zines. The fair welcomes all that is weird and eclectic from across western Canada!
More Info: http://www.royalbison.ca/
Basics of Urban Planning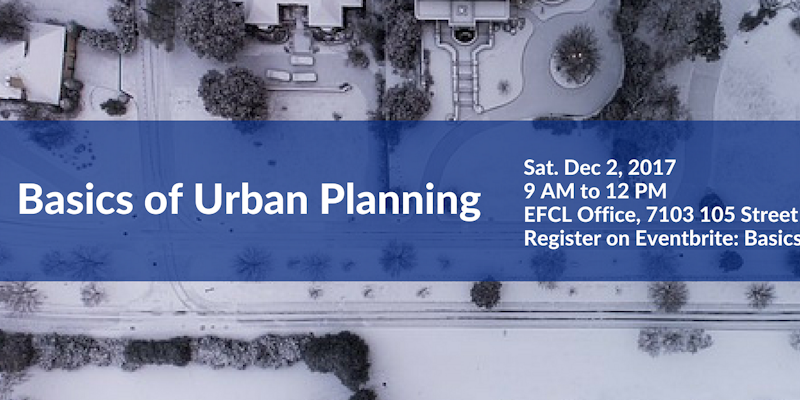 Saturday, December 2, 9 am – Noon
Edmonton Federation of Community Leagues
Is your neighbourhood dealing with development and planning issues? Want to learn how to engage more fully in the city's land planning process for your league? New to a civics director role or need some more information? Join us to get a better understanding of good planning practice and the land use planning framework. Once we've covered some of the theory we will focus on giving you a chance to apply your knowledge to real-world planning questions.
More Info: https://www.facebook.com/events/1482908951762782/
Saturday, December 2, 1:30 pm – 3 pm
Whitemud Crossing Edmonton Public Library
Social media is everywhere. Whether it is to connect with friends and loved ones, share information or catch up on news, many of us use social media on a daily basis. Join Kathleen Smith, Paula Simons and Marty Chan for a discussion around the impact of social media. The trio will discuss how they use their social platforms to engage with their following, share information and tackle tough issues.
Print Affair: Ginger SNAP
Saturday, December 2, 8 pm – Late
SNAP Gallery and Printshop
Join Edmonton's most unique and exciting artist-run centre for a lively evening of sweet & spicy treats, live printmaking, fabulous art for sale, exciting prize package draws, and live music by Edmonton trio Amy Van Keeken, Curtis Ross, and Doug Organ. Come for the art, stay for the party. 
More Info: http://www.snapartists.com/special-events/
Food4Good Winter Market
Wednesday, December 6, 1 pm – 6 pm
Hosanna Lutheran Church
Please join Food4Good for our Winter Market! We will have an affordable Fruit & Veggie Sale with eggs and Low cost turkeys! There will also be a drop-in soup mix workshop (free) and Community Food Centre presentation, if you are interested. 
More Info: http://food4good.ca/
Voices of Amiskwaciy: Our Stories
Wednesday, December 6, 7 pm – 10 pm
Citadel Theatre
Join us for a special evening to honour Indigenous stories, culture, history, community and education. At this event, we will be premiering the digital stories of those community members who have shared through the Voices of Amiskwaciy project and have the opportunity to hear from these storytellers in person. Enjoy refreshments and live performances from Indigenous artists as we recognize the amazing work of those who have helped make the Voices of Amiskwaciy project and Indigenous Canada MOOC possible.
More Info: https://www.facebook.com/events/148195039147426/
Change for Climate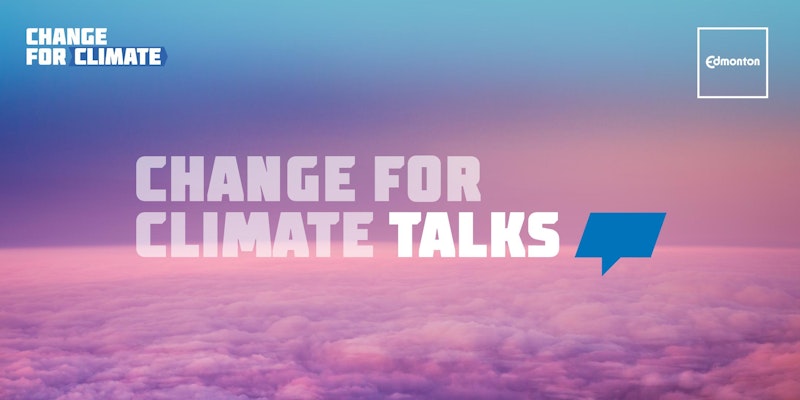 Thursday, December 7, 5:30 – 9 pm
Art Gallery of Alberta
Cost: $10
Climate change is our generation's most significant challenge. Let's come together and find ways to take action on climate change. Change for Climate Talks will bring together 11 community leaders, all from different backgrounds, to share why its important that we all act on climate change and inspire us to take action.
More Info: https://www.facebook.com/events/130963267602323/
Winter Concert Fundraiser
Thursday, December 7, 7 pm
Millwoods United Church
Cost: $15
Fabulous Winter Folk Concert with Celtic, Bluegrass and Christmas Flavors. A heart-warming show filled with music, merriment, and they deliver a fun blend of music, an unpredictable series of songs that change every time you see them. They delight their audience with tales about Grain Elevator, War brides, Patchwork quilts, and history makers such as Louis Riel and country living. They will share tender songs about their own journey or break into Swiss yodeling, sing in Gaelic, Dutch, German or French.
More Info: http://www.millwoodsunited.org/the-great-plains-in-concert-dec-7/
Holiday Bazaar presented by The 124 Grand Market
Friday, December 8 – Saturday, December 9
10004 103A Ave
Cost: $2
The Holiday Bazaar is back for a 5th season in a BRAND NEW SPACE! 50+ of Edmonton's top local makers, bakers, farmers and shakers with their best handmade designs, bits and baubles, tasty treats and home-grown goodies. Plus, food pop-ups from downtown restaurant partners!
More Info: https://www.facebook.com/events/147946705845749/
Leefield Christmas Gift & Craft Sale
Saturday, December 9, 5 pm
Leefield Community League
30 local artists and vendors under one roof! Free admission! Cash concession! Door prizes!
More Info: http://www.leefield.ca/upcoming-events.html
Snowshoe & Stargaze
Saturday, December 9, 7 pm – 9 pm
Elk Island National Park
Cost: $30
Trek over snow and gaze into a star-filled sky. Following a short guided hike on snowshoes you'll enjoy snacks around a fire and learn about the night sky above. Register in advance and meet at the Astotin Lake Beach Parking Lot.
More Info: http://www.pc.gc.ca/en/pn-np/ab/elkisland/activ/activ5