LOCAL EVENTS
Get daily updates on the best events in town!
Follow us on twitter, facebook or join our email list 'The Local Goods'.
Want to submit an event? Click here.
Events are FREE unless otherwise specified.
_______________________________________ 
LOCAL GOOD EVENTS
Green Drinks: Habitat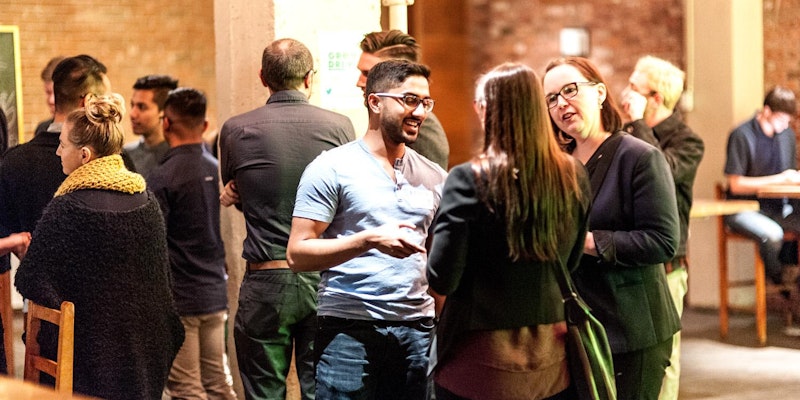 Wednesday, February 1, 7 pm – 10 pm
Yellowhead Brewery
Cost: $10 in advance/$15 at the door or $25 for a whole season pass
Green Drinks Edmonton is a simple, unstructured event that brings together environmentally-minded Edmontonians in a relaxed, agenda-free evening of networking and great conversation. In Edmonton, we do Green Drinks with a slight difference: the events are themed to bring interested people and local experts together, to facilitate introductions and foster collaborations. On February 1st, we'll be celebrating guests who are making Edmonton a sustainable and vibrant place to live and work. Come meet and connect with some of Edmonton's leading figures & thinkers in our local community and learn what strange and wonderful things have emerged in our ctiy.
More Info: https://www.eventbrite.ca/e/green-drinks-habitat-tickets-30822820887
COMMUNITY EVENTS
Canada's Top Ten Film Festival
Friday, January 20 – Sunday, January 29
Metro Cinema
Cost: Varies
Now in its 6th year of screening at Metro Cinema, the 16th annual Canada's Top Ten Film Festival celebrates excellence in films from across our country. This year's features include a neo-western, a moving environmental documentary, an epic exploration of revolutionary politics, a charming animated work, and more.
More Info: http://www.metrocinema.org/fest_view/336/
Progress Alberta One Year Anniversary/Open House
Thursday, January 26, 4:30 pm – 9 pm
10187 104 St NW
Progress Alberta launched a little more than a year ago… And we're still here! Let us celebrate a year of existence together at Progress Alberta headquarters. Bruce the dog will be in attendance to sign autographs. Drinks by donation. There will be snacks. Entertainment will be provided.
More Info: https://www.facebook.com/events/1828267010719228/
Ice on Whyte Festival
Thursday, January 26 – Sunday, January 29
Thursday, February 2 – Sunday, February 5
Old Strathcona
Cost: $4 – $7
There is something new to experience every day! Run, play, slide down the giant ice slide, be amazed by a professional ice carver, learn to create your own ice carving, meet ordinary people from out past, treat your ears to live music, savour a hot beverage or craft beer, sign up to paint part of the Strathcona 2017 Mural, make a craft, taste some yummy food or even some bison stew. You will not run out of things to do at Ice on Whyte.
More Info: https://www.iceonwhyte.ca/
Alberta Student Leadership Summit 2017
Saturday, January 28, 9 am – 5 pm
University of Alberta
Cost: $40
Welcome to the 2017 Alberta Student Leadership Summit! Presented by Studentcare and the University of Alberta Students' Union. This year's theme is Harnessing Courage, and encourages all leaders to take the necessary risks to improve themselves and their community.
More Info: https://www.eventbrite.ca/e/2017-alberta-student-leadership-summit-registration-29587394694
Meet Your Farmers Open House
Saturday, January 28, 10 am – 1 pm
SPUD Edmonton
We're hosting a "Meet Your Farmers" open house on Saturday, January 28th at our warehouse! We support local suppliers as it builds stronger communities and creates an economical and environmentally sustainable food system. We'd love for you and your family to come meet the people behind your products. SHOP:
Check out and shop our products first hand. 100% of vendor proceeds will be kept by each vendor. LEARN: Talk to the people that grow and produce the food your family eats. EAT: Try out some of the great food SPUD producers have to offer.
More Info: https://www.facebook.com/events/1330066103694431/
Table Top Local Market
Sunday, January 29, 11 am – 5 pm
Table Top Cafe 124 Street
We're very excited to announce our first YEG local market at Table Top Cafe! We've already partnered with a bunch of amazing vendors who offer neat items like handcrafted jewellry, unique used books, nerdy buttons, cupcakes and fancy tea. Admission to the market is free, so no need to worry about a cover fee! Come on down January 29th to browse some truly one-of-a-kind items, talk to our vendors, and maybe even stick around to play some board games!
More Info: https://www.facebook.com/events/862897557146568/
Global Awareness Week
Monday, January 30 – Friday, February 3
MacEwan Campus
Learn about human rights and gender equality issues. Witness the impact of sustainability initiatives and poverty education. Get creative at hands-on workshops. This is Global Awareness Week. Whether you come to feed your mind, your heart or your belly, this week-long celebration has something for everyone. Fill your days with engaged speakers, international cuisine, photo exhibits and cultural celebrations.
More Info: http://www.macewan.ca/wcm/MacEwanEvents/AnnualEvents/GlobalAwarenessWeek/
David Korten – A Living Earth Economy for an Ecological Civilization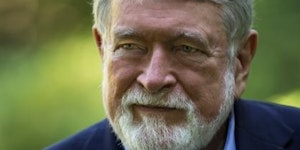 Monday, January 30, 7 pm – 9 pm
University of Alberta, CCIS
As a truly global species, we humans must now take the step from an imperial civilization of competition, domination, and exploitation to an ecological civilization of cooperation, sharing and generative partnership. This will require a transition from transnational corporations to national governments as our primary institutions of governance, and a change of focus from growing GDP to meeting the spiritual and material needs of all the world's people. To do so within the limits of what living Earth can sustain is the economy's defining purpose. We will examine the profound cultural and institutional implications and the path ahead. David Korten is known for his contributions to framing alternatives to the deep cultural and institutional forces driving the human species toward economic, social, political, and environmental collapse. 
More Info: https://www.eventbrite.ca/e/david-korten-a-living-earth-economy-for-an-ecological-civilization-tickets-30540301865
Rubaboo Arts Festival
Monday, January 30 – Saturday, January 4
La Cité Francophone
Warm yourself up this winter with the Rubaboo Arts Festival! Showcasing Aboriginal theatre, music, dance, art, food, family events, artist workshops & crafts. Join us for Santee Smith's NeoIndigenA (Jan 30 & 31), a Festival Fusion Night (Feb 2), David Garneau, Folk Lordz, Red Leather/Yellow Leather (Feb 3), a Bow Making Workshop w/ Elder Jerry Saddleback (Feb 4) & many other talented artists!
More Info: https://www.facebook.com/AlbertaAboriginalArts/
More Than Honey: Documentary Screening and Panel Discussion
Monday, January 30, 4 pm – 6 pm
MacEwan CN Theatre
Join the MacEwan Office of Sustainability for the documentary "More than Honey" by Markus Imhoof. Portraying small family beekeepers as well as industrialized honey farms around the world, the film takes a much-needed global perspective, depicting the impacts of colony collapse disorder and possible solutions. The documentary will be followed by a panel discussion to discover the role bees play in revitalizing the local urban landscape. Joining to share their experiences are Keith Scott (Coordinator of Community Standards at the City of Edmonton), Craig Toth (President of the Edmonton and District Beekeepers Association) and Dustin Bajer (Teacher, Permaculture Designer and self-described network nerd). Troy Donovan, MacEwan's resident beekeeper, will moderate the panel and present the urban beekeeping project on campus.
More Info: https://beedocumentary.eventbrite.ca
International Week
Monday, January 30 – Sunday, February 5
University of Alberta
International Week runs January 30 – February 5 and features events focused on how we transition from current global realities to a better future, as well as fashion, dance and music that reflect and celebrate the cultural diversity of our community. I-Week 2017 has over 50 free events open to the public. 
More Info: globaled.ualberta.ca/iweek
Manulani Aluli-Meyer: Holistic Theory of Knowledge; Indigenous Common Sense
Tuesday, January 31, 7 pm – 9 pm
University of Alberta, CCIS
How can we enrich our current model of progress and develop spiritual intelligence? Hawaiian-born Manulani Aluli-Meyer will share vital, world-changing concepts from her own culture and learnings. Learn what these indigenous worldviews have to say about the sciences, knowledge building, and interdependence. Explore a new understanding of the Philosophy of Knowledge and your role in the transformation of our society. Appreciate the role of observable knowledge and contextual learning in this transformation.
More Info: http://globaled.ualberta.ca/en/InternationalWeek/TuesdayJanuary31.aspx
Black History Month Celebration
Thursday, February 2, 6 pm – 7 pm
Alberta Legislature
Join Speaker Bob Wanner and MLA David Shepherd for the Alberta Legislature's first official event to recognize the rich history of Albertans of African descent. Black Albertans have been part of our province for over 100 years, making significant contributions to our industry, culture and communities. It's our hope that you'll join us to celebrate their rich legacy and mark this historic occasion. The event will feature performances by Mbira Renaissance Band Unplugged, Ahmed Knowmadic and Erin David as well as remarks by MLA Shepherd, members of the Official Opposition and third party, and community advocate Junetta Jamerson.
More Info: https://www.facebook.com/events/355250431526616/
Let's Talk Food Mayors' Panel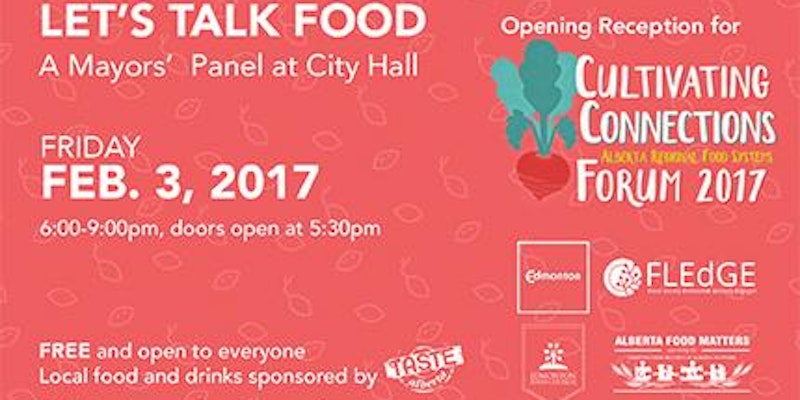 Friday, February 3, 6 pm – 9 pm
City Hall
Join us for Let's Talk Food a panel discussion among Edmonton-area mayors, featuring Mayor Don Iveson, and more! Hosted by the Edmonton Food Council, FLedGE, Alberta Food Matters, and the City of Edmonton. We hope that this event will elevate the conversation about the sustainability of our region as a prosperous, resilient, growing place, and local and regional food systems. This will be an important opportunity to engage in a meaningful dialogue about regionalism, growth, land-use, and preservation of land for agriculture and food systems. We look forward to this opportunity to "cultivate connections"between our communities!
More Info: https://www.eventbrite.com/e/lets-talk-food-mayors-panel-at-city-hall-cultivating-connections-opening-event-tickets-30899369847
Cultivating Connections 2017
Friday, February 3 – Sunday, February 5
Northlands Expo Centre
Cost: $75 – $250
Cultivating Connections will gather people from all areas of Alberta's regional food systems to identify tangible opportunities to collaborate, as well as to inspire initiatives for vibrant regional food systems with improved access to local, nutritious food for all. The forum will feature keynote speaker Dr. Wayne Roberts, a leading thinker and practitioner in the field of innovative local and urban food systems. Registration includes an exciting evening highlighting the Taste and Sound of Alberta, hosted by the Culinary Arts Program at the Northern Alberta Institute of Technology (NAIT). Whether you are a farmer, greenhouse grower, dietitian, chef, school educator, permacultrualist, policy-maker or foodie, Cultivating Connections has something for you!
More Info: https://cultivatingconnections2017.splashthat.com/
Cinderella at the Edmonton Opera
February 4th, 7th, and 9th; 7:30 pm
Northern Alberta Jubilee Auditorium
Cost: $40.00+
Warm up this winter with Rossini's feel-good Cinderella (La Cenerentola), a bel canto opera that boasts whimsical composition and dramatically rich singing. Edmonton Opera presents a new production that combines 1950's high fashion with the fairytale world of Cinderella to ensure an evening of laughs and tender romance.
More Info: http://www.edmontonopera.com/season/2016-17/cinderella
Screening: Elder in the Making
Wednesday, February 8, 1 pm – 5 pm
Art Gallery of Alberta
cost: $15
"Elder in the Making" is a feature documentary inviting all residents of North America to explore the tragic and hopeful history of their home. Through the journey of two unlikely travel companions, this film uncovers our responsibility as stewards of the land and of the generations yet to come. After the screening there will be a Q&A session, with an exciting entrepreneurial twist, featuring both Chris Hsiung – Producer and Director and Cowboy Smithx – Co-Producer. Following the Q&A session there will be an hour long networking event in the foyer outside of the theatre. Appetizers & drinks provided.
More Info: https://www.facebook.com/events/1225908814166180/
Health & Wellness Information Fair
Friday, February 10, 1 pm – 5 pm
North West Edmonton Seniors Society
Learn about healthy aging and lifestyles. A showcase of services, programs & exhibitions. Come join us and get informed. Everyone Welcome. Free Admission. Complimentary Coffee. Door Prizes.
More Info: http://www.calderseniors.org/
12 Annual Memorial March Of Edmonton
Tuesday, February 14, 6 pm – 10 pm
Sacred Heart Church of the First Peoples
Please join the Twelfth annual walk to memorialize all the Missing and Murdered women of Edmonton and Alberta. Please wear red or purple. Remember this walk is for all nations and we also memorialize the men we have lost.
More Info: https://www.facebook.com/events/360465231004261/
Winter Cities Shake-up
Thursday, February 16 – Saturday, February 18
Shaw Conference Centre
Cost: varies
Urban planners and designers, entrepreneurs and business people, artists, cultural and community organizers, and people who live in winter cities and want to take advantage of all winter has to offer. Edmonton's WinterCity Strategy and Implementation Plan together are a unique holistic approach for transforming Edmonton into a more liveable, inviting, creative and prosperous winter city; a place that is world-renowned for celebrating its northern climate.
More Info: http://wintercitiesconference.com/
Pecha Kucha Night 27
Thursday, February 16, 7 pm
Shaw Conference Centre
Cost: $10
Derived from the Japanese phrase for "the sound of chit chat", Pecha Kucha Nights are global, fun and informal gatherings where Edmontonians present innovative ideas in a fast-paced, concise and entertaining format. Ten winter themed presentations, consisting of 20 images shown for 20 seconds will be showcased at Pecha Kucha 27.
More Info: https://www.eventbrite.ca/e/pecha-kucha-night-27-tickets-31040140897